About Us
A Family Tradition for 150 years!

Choosing an independent business such as Ross' Nursery has its benefit
Allows you to develop a relationship based on quality, service and trust
Personalized service – where we recognized you as valued customer and service is merely a phone call away
Special requests are taken seriously and problems are dealt in a friendly, personal way
We are able to meet the needs of every garden, home and landscape.
Our staff is qualified in all areas of the growing and landscaping industry.
Some of our loyal customers have been with our family for generations – we would like to add you to that list.
Our History
1864 – That was the year Wm. McKenzie Ross' Sons Florists was founded.
We take great pride in the fact that we are one of Canada's oldest family run businesses.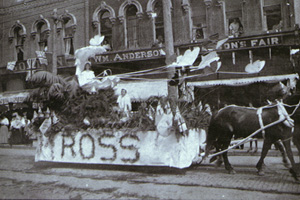 William McKenzie Ross I was born in Balnabruack, Tabot, Scotland May 23, 1833. He was educated in the parish school and at Tain Academy about 9 miles from Portmahomack. He could speak English Gaelic and French. That year at the age of 12, he was sent to clerk with J.G. McKenzie, an Uncle in Montreal in a wholesale and retail store. He was six weeks on the boat by himself and landed on August 30, 1844. He lived with his relative Rev. Dr. Mathiason, a distinguished Presbyterian divine and moderator. He had a sister who was sent to New Zealand, he was the only one to immigrate to Canada three other half siblings remained in Scotland.
In 1850 he moved to Chatham to work for the drapery firm of Crow and Beatty of Chatham, and within a few years decided to go into business for him self in the building which was later known as the Rankin Hotel, and built a fine home on Park Avenue with an attached conservatory which he called New Rossford. All went well until the depression of1861 when he lost everything.
In 1863 he rented land on which was then known as County Road 10 (today it is known as Charing Cross Rd.) to develop as an orchard with greenhouses.
By 1865 he was able to purchase 10 acres for a homestead and married Mary Ann Wilson from Morpeth, on Sept. 6.
In 1867 they took up residence on the property and had three sons William, Charles and James. In 1874 Mary Ann died at the age of 30,
shortly after giving birth to a daughter who also deceased.
He raised all three boys by himself which was difficult in those days especially when they were only 8, 6 and 3 years of age.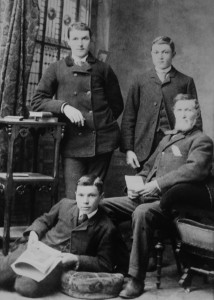 Obviously, he managed to be successful in his business because in 1886 he was able to send a collection of 107 varieties of fruit which he grew on the property to the Colonial and Indian exhibition in London, England. He won the Prince of Wales Medal in recognition for it along with a certificate which still hangs in the business. He also served as president of the Chatham Horticultural Society and the St. Andrews Society as well as serving as Ensign in the Chatham Batallion of the Militia from 1856 to 1860.

In 1890 the business became known as William McKenzie Ross' Sons. Charlie became proficient as a florist and nurseryman and continued to work with his brother. Jim wasn't interested and set off out west. In 1901 Charlie bought some land on Tissiman and married Helena Thompson in 1902. He started working as a government Crop Inspector as San Jose Scale epidemic became a concern. Both he and William continued in the business in separate areas. Charles worked in the nursery and William with plants and fruit. Charles and Helena had 3 children Ethel, Florence and Jim.
In 1908 Charles and Helena moved to Cuba to begin the Chatham Cuban Land Co. in the sugar cane industry. He was very successful but died of malaria in 1920 just before the collapse of the sugar market. Jim moved to Seattle to his uncle James' after his death. The girls had come back earlier to continue their education.
James, known as J.D. Ross became very successful in Seattle, the City of Light, where he designed what is known as the Ross Dam. It provided the city with an independent source of electricity. He was a fellow of the American Institute of Electrical Engineers and a member of the American chemical Society.
William III was born in January of 1892 followed by a sister who succumbed at 11 months of what they called a summer complaint, another brother died at 18 months of appendicitis, and then in 1900 Malcolm Dunlop came along.
William III married Hallie May Carey on February 16, 1921 and had three children, William McKenzie Ross IV , Stuart and Jean. The business continued through the next generation. William IV married Ada Audrey Annable of London, a Reg. nurse at Public General Hospital. They, in turn had four sons, William V, Marcus, David and Matthew.
William V, of course, took over the business after university and married Pamela McNear of Blenheim in 1974 who taught Visual Art in high school
for the Kent County Bd. of Ed. for 29 years. Their son William VI continues the line and heads up the Landscaping side of the business which has expanded
over the last 5 years. He also teaches at the Ridgetown Campus. He and Erin (Corriveau) also a Reg. Nurse have 3 children William Ephram Mckenzie Ross VII, Sydnee Marie and Skylar Elora. Their daughter Shane Elizabeth (Ross) VanMoorsel manages all of our Social Media and designing, her husband Dan is the Plant Manager of Chatham-Kent and Dresden Ready Mix, together they own and operate Maple City Squash Club and have 3 children, Gabriel Alexander, Haydan Elizabeth and Macy Klara.

The saga continues…
We're proud of our heritage and we are thankful for 150 years of loyal customers who have given our family so much.